Emirates and Trenitalia, Italy's national railway company, today announced a new codeshare agreement which will enable Emirates customers from across its worldwide network to discover new destinations across Italy.
With just one easy-to-book ticket, travellers will be able to fly on Emirates and reach some of Italy's most picturesque cities and towns using high speed, modern and comfortable trains that leave from Emirates' four Italian gateways – Bologna, Milan, Rome and Venice.
"This codeshare agreement with Trenitalia opens up new possibilities for our customers and complements our current services to Bologna, Milan, Rome and Venice. With Trenitalia, travelling to the Far East from Foggia, or to Padova from Sydney has never been easier," said Hubert Frach, Emirates' Divisional Senior Vice President, Commercial Operations, West.
"Emirates already flies more than 1.6 million passengers to and from Italy every year. With this codeshare agreement, we're connecting Italian regions to our global network, significantly boosting the Italian tourism industry," added Mr Frach.
"The agreement signed by Trenitalia and Emirates is a pivotal step towards the increase of effective and comfortable integration between train and airplane," said Gianpiero Strisciuglio, Director of Trenitalia Long Haul Passenger Division.
"Our customers will now be able to buy one single solution for their train and flight journey, departing and arriving from 27 Italian stations and enjoying the comforts and the best commercial facilities offered by Trenitalia and Emirates," he added.
Customers can now start booking their codeshare trips via Emirates' website and travel onwards to these destination and benefit from the convenience of holding a single ticket. First Class and Business Class passengers will automatically be booked in First Class on board Trenitalia's trains.
Train stations included as part of the Emirates -Trenitalia partnership: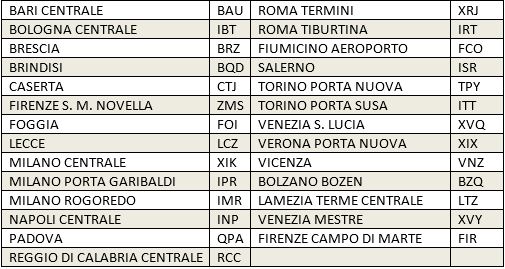 Boarding
Emirates customers will be able to board Trenitalia trains directly without the need to exchange their boarding pass for a separate ticket. As with their flight, they will be assigned a seat number and car number which will be on their e-ticket.
Class of travel
Trenitalia tickets will be booked in the cabin class that matches the class of travel on the Emirates ticket. Depending on the type of train, these cabin classes on Trenitalia range from Executive, Business, Premium and Standard. Passengers travelling in Emirates First Class and Trenitalia Executive Class will also be able to access, where available, the lounges of each partner by presenting their boarding passes.
Baggage
Emirates' baggage allowance will also apply for train journeys, as well as baggage dimension restrictions. Customers will need to collect their checked bags from the arrival hall at the airport and take them to the train station.
Emirates in Italy
Over the last 25 years, the links between Italy and Emirates have become stronger and stronger. With eight daily flights to four gateways: Bologna, Milan, Rome and Venice, Emirates has become an important contributor to Italian trade and tourism. The airline has also been a proud sponsor of AC Milan since 2010 as well as a main sponsor of the Internazionali BNL d'Italia tennis tournament.