Last updated on 28 July 2018
It was 5:45 a.m. in Atlanta and Operations Service Manager Cortez Brown spoke with the enthusiasm of a morning person. He told Airport Customer Service agents this day, Friday, July 20, would be the busiest of the year for Delta – and for them.
"This morning we've got 26,000. Very busy day for us, very busy day for the gates, very busy day for corporate and everyone in the system so, put your game faces on!"
Friday was a day for the ages, the high point of a summer that had already seen Delta people serving record numbers of customers. In fact, the airline operated 6,087 flights carrying 652,730 customers – an all-time high for passengers served.

Despite the challenges posed by such heavy customer loads, Delta people across the system provided their customary warm customer service and best-in-industry operational performance. For most, it was business as usual – problems solved and obstacles overcome, always with a smile – amid a succession of such days this summer.
But this day was something special, and success doesn't simply happen. It comes after a plan is carefully constructed and expertly executed by the best employees in the business.
"The biggest challenge on a day like today is to maintain focus and pay attention to the details so that nothing slides through the cracks," said Maurice Burks, an Operations Service Manager in Minneapolis-St. Paul. "Staying focused helps us stay safe while providing the best customer service possible."
The morning rush
Of course, the day began in Delta's international stations. While the U.S. East Coast slept, the queues began before 7 a.m. at Delta's Terminal 3 at London-Heathrow, as customers enduring the U.K.'s longest heat wave in more than 50 years readied to jet to far-flung destinations. Of the nine flights departing, there were just 45 spare seats.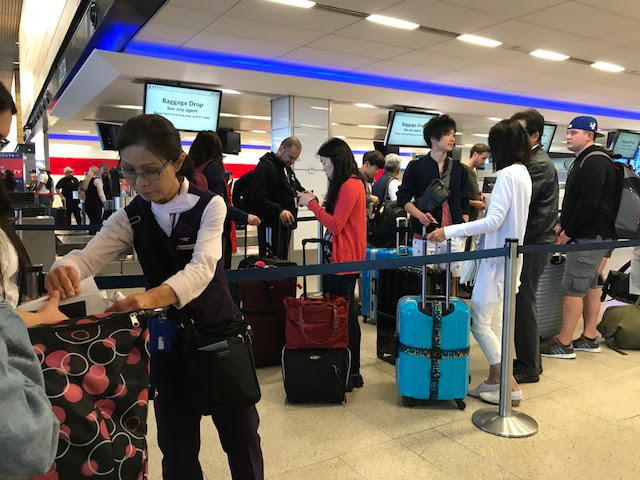 "With the summer peak starting today the whole team, including our business partners, pulled together to deliver a safe and secure operation," said Jill Gosling, Delta's London-Heathrow Station Manager. "It's on days like this that our team really shine and show our customers the Delta Difference."
In New York, it was the kind of summer morning that's called Chamber of Commerce weather: Cool, without a cloud in the sky. And for thousands of New York City-based Delta employees, it meant Mother Nature was on board to help the dual Delta hubs move more than 500 departures.
Julie H., a Red Coat at JFK, wore Cruising Cardinal – broadcasting that she was ready to solve problems on the spot. When she settled into a position at the check-in lobby, a customer needing help with his Aeromexico reservation immediately approached. The matter was routine and the customer walked away with a smile.
"You can often tell how the day will go based on the first customer you help," Julie said. "I think it's going to be a good day."

At MSP, Sumie Baker, another Operations Service Manager at the busy airport hub, said it was "all hands on deck" early in the morning for the team. "From the management on down, everyone worked together to make sure the flights went out on time," she said.
One week earlier, MSP had handled a near-record number of diversions as the Midwest battled storms and a heat index of 106 degrees. This week brought a significant increase in customers flying out of the Minneapolis-St. Paul airport.
"It's like mile 22 in a marathon," said Elizabeth Campbell, Operations Service Manager for Safety, Security, and Compliance at MSP. "You know you're nearly there, but you have to maintain a slow and steady pace, and stay committed to the task at hand."
The nerve center
As flights departed MSP, JFK, LAX and hundreds of points beyond, the men and women of the Operations and Customer Center in Atlanta – the nerve center of the airline – surveyed the action all day with cool professionalism, attentive to the needs of each flight.
"Today's focus, just like every day, is 100 percent completion factor in addition to minimizing any delays," said Dan O'Brien, OCC Duty Director.
The OCC's Meteorology team kept close watch over the weather, always unpredictable during summer months, and the operations teams worked together to ensure any disruption could be handled. The outlook was thankfully good across most of the system, but pop-up thunderstorms are common across most of the U.S. this time of year.

Just then, heads bobbed up from screens as the intercom dinged and Dan announced that the first shift's ice cream trucks have arrived down in the parking lot – a thank you to the teams for their hard work through the summer.
Back at the Atlanta airport, a customer traveling with his wife and two children stood in the bag drop line, wondering about the crowds.
"Wow, why is it so crazy here today?" he asked customer service agent Shawn S., who was working the bag drop line. Replied Shawn with a smile, "Well, you know we're the No. 1 airline."
In the tower, senior agent Bill Davidson looked at a computer screen with every flight planned to park on concourses T, A, B, C and D. He and a team of senior agents needed to balance the timing so that each flight had enough to land, park, reload and depart again without impacting any following flights.
Pointing to two TechOps hangars and one outdoor aircraft holding areas that were clear of aircraft, he noted, "You know when you see this happening it's going to be a smooth operation for tower agents because there isn't a need to swap aircraft since they are all in the air."
Ready to fly
Indeed for TechOps, the busiest day began that Thursday. TechOps employees worked throughout the night and into the early morning to ensure the aircraft were ready for their departure time. Every night, line maintenance is on the ground at the airport as flights arrive in order to do whatever needs to be done so that airplane is ready to fly in the morning.

"We always emphasize our airplanes being ready to fly by 6 in the morning," said Tommy Denton, Line Maintenance station manager in Atlanta. "We want to be sure they're ready to fly by their scheduled departure time."
Connor D., an MSP-based flight attendant, worked a flight to JFK and then on to New Orleans on Friday. The flights departed early, which he said was a testament to great team work between the flight attendants and the Airport Customer Service staff.
"The real goal on busy days," said Connor, "is focusing on communication between the flight attendants and the customer service agents to ensure we are proactive on assisting passengers who may need extra time to board, monitoring the overhead bins for bag space, and minimizing anything that might interrupt the flow during the boarding process."
Boeing 737 First Officer Matt Eckstein spent the day flying three trips, starting in Daytona Beach, flying on to Nassau and ending in Atlanta. Despite storms over most of Florida, delays were minimal.
"Delta gives us so many tools, like the rapid weather updates we receive from the Flight Weather Viewer app. On a tactical level, we can make decisions a lot faster than other pilots out there. We're fed a lot of information about what's going on because we have connectivity in the cockpit and we're able to communicate to the passengers," Matt said.
"It's cool to think back on how well everything ran."

As the day began, some supervisors knew more flights were scheduled than any other day of the year. Though with flight loads having been well above average all summer, hard-working employees could be forgiven for not noticing. But what was not known was that the day would also break a record for passengers enplaned. That news was confirmed Monday, in fact, it turned out the previous record had been broken only the day before.
And against that heavy workload, Delta people shined as usual. More than 99.9 percent of flights were completed – only one flight of more than 6,000 was canceled – none in Delta Connection – and more than 75 percent of that record number of flights arrived on time.
"Hats off to the Delta teams in every area of the operation," said Chief Operating Officer Gil West. "Friday they showed yet again that they can rise to any challenge to provide the very best service and operational performance for our customers. Delta people have been doing it all summer and they did it again, with flying colors."